Important GVH Race Updates:
Save the date October 10, for GVH Races and Fall Festival 2020
Farmers Market / Vendor Reservation
Seven years ago we launched a NY food and wine vendor area at the Genesee Valley Hunt Races after obtaining a Farmer's Market Permit from NYS Dept. of Ag and Markets. It has been a huge success for vendors – and certainly appreciated by the crowds and tailgaters at this century-old, family oriented event! Our Farmers Market goes hand-in-hand with our Agri-Center, which features a petting zoo and interactive agricultural education activities. This area is always bustling with activity all day!
We think this event offers the perfect demographic for your products!
---
What
GVH Hunt Races Farmers Market
Location
3330 Nations Rd, Geneseo, NY 14454
Intersection of Nations and Roots Tavern Roads
(physical address for GPS or Mapquest—not mailing address)
Date
Saturday, October 12, 2019
Hours
10:00AM – 4:00PM
Sponsor
Genesee Valley Hunt, Inc
Fee
$130 – includes vendor tent area of 10 X 12 feet
---
NY Craft Beverage Producers Welcome!
NYS Ag & Markets Farmers' Market designation enables NY wineries to sell NY labeled wine by the bottle. (Wineries are no longer required to obtain a "no fee" permit from the SLA).  New York's craft beverage industry has grown to more than 1,000 producers, including more than 400 farm, micro and restaurant breweries, and 132 farm distilleries – 104 of which have been added since 2012. Additionally, the state ranks first in the U.S. for the number of hard cider producers, second in craft distillers, third in breweries, and fourth for the total number of wineries.  NY "craft breweries" (producing 60, 000 barrels/year or less) can sell their beer by the bottle at bona fide farmers' markets. Please bring any applicable permits with you to the GVH Races.
Special Discount for Farm Bureau Members
The local county chapters of NY Farm Bureau have partnered with us in organizing the Agri-Center. In appreciation, we are offering Farm Bureau members who feature home-grown or home produced products a $30 discount off their space in the Farmers Market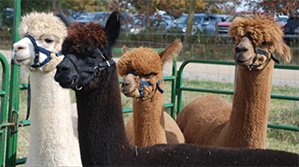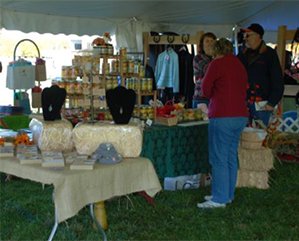 Questions & Information
Megan Doggett, Organizer
Phone 585-319-6380
Email vendors@gvhraces.com
Genesee Valley Hunt Races Vendor Instructions
These instructions will also be emailed to you after submission
Set-Up
Vendors should be set up and vehicles removed from grounds by 9:00 a.m. on Race Day (October 12). No vehicles will be allowed on the grounds during the event.

Vendors who want to set up Friday evening need to contact Megan Doggett. The area WILL NOT be guaranteed secure throughout the night, although we will have someone on the grounds all night.

Booth space dimensions will be enforced – if your display will overflow specified booth areas, please purchase an additional booth section.

Please indicate need for electricity on form.
Parking
After unloading, parking is available in the General Parking area across Nations Rd.
Each vendor will be sent four (4) general admission tickets for helpers. If you need more tickets, please order them on the reservation form at the discounted price of $12 each.
Teardown
Vendor vehicles will be readmitted on to the grounds after 4:00 pm. for teardown and loading.  Remember, this event has a carry-in / carry-out policy.  Nothing is to be left on grounds.
Questions
Please contact Megan Doggett with any questions concerning vendor exhibits: phone 585-319-6380 or email vendors@gvhraces.com
What are you waiting for?